The Shot Spotter Pretext - Abuse of Intelligence
Image
The first rule of intelligence work is that intelligence and politics shall never cross paths. Intelligence is also never to be politicized. Intelligence is to be based on proven facts and data, nothing else. 
Criminal investigation and intelligence hold hands. One can't exist without the other. Intelligence in the major metro environment is a tool for policy makers to create public safety policy, and in-turn, those public safety policies affect daily criminal investigation operations.
Recently, I wrote about a new set of Chicago Police policies that create a new intelligence gathering program by way of creating a new district-level police officer position and function known as the District Coordination Officer.  
There are new discoveries being made by the local Chicago journalism community that involve the city's purchase and use of a technology known as "Shot Spotter". 
Back on May 3rd, 2021, the MacArthur Justice Center released a report with the title, "ShotSpotter Generated Over 40,000 Dead-End Police Deployments in Chicago in 21 Months, According to New Study"
Right away, the MacArthur Justice Center stated "MacArthur Justice Center study finds City's use of ShotSpotter is inaccurate, expensive and dangerous" (Emphasis MJC's)

The MacArthur Justice Center was very detailed and stuck to their findings which they stated came from data they obtained from the City of Chicago through the Freedom of Information Act. 
The most troublesome facts known by the public as of that report are in the screencap below, alt-text included. 

On July 19th, 2021, at 9:17AM, the well-known Motherboard publication reported that they performed an investigation which "found that ShotSpotter frequently generates false alerts—and it's deployed almost exclusively in non-white neighborhoods." 
Motherboard says they contacted Sam Klepper, senior vice president for marketing and product strategy at ShotSpotter with the concerns raised by their findings, and he gave them the below response.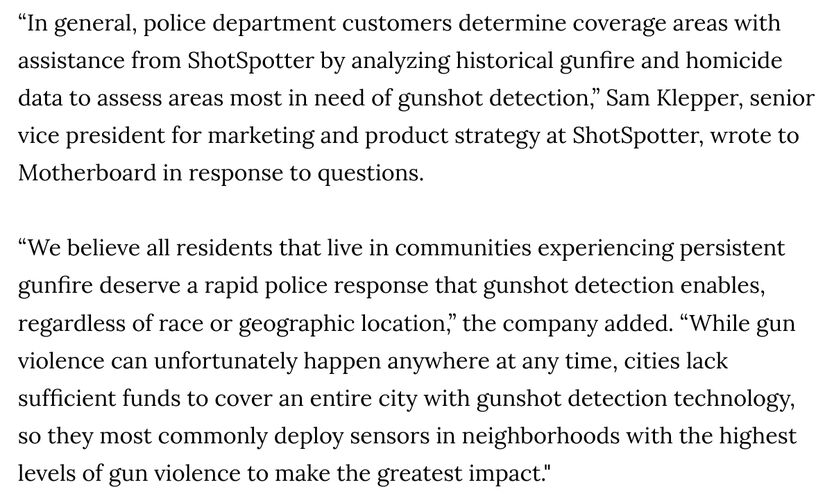 This statement is now under great scrutiny today after Motherboard released NEW findings of a NEW and more recent investigation that Motherboard says shows "Police Are Telling ShotSpotter to Alter Evidence From Gunshot-Detecting AI" - title of today's Motherboard article. 
Twitter figuratively went ablaze after reporter Jason Koebler of Motherboard tweeted out the link to this article. 
"Prosecutors in Chicago are being forced to withdraw evidence generated by the technology, which led to the police killing of 13-year-old Adam Toledo earlier this year." - Motherboard quote
The new Motherboard findings gleaned from yet another Freedom of Information Act request to the Chicago Police Department shows that the department is re-classifying shotspotter findings. 
The findings made by Motherboard show that anyone with authorization to access ShotSpotter can get into the system and not only re-classify a sound as a gunshot, but that months later and after "post-processing," any ShotSpotter analyst can then change the alert's coordinates to any location they want, this falsely placing a person at a certain place at a certain date and time when they were never there to begin with. 
Motherboard discovered that a ShotSpotter named Paul Greene has made a major admission of fact that now places the company's claims as hyperbole more than science. A statement was found in which Greene stated in court "we freely admit that anything and everything in the environment can affect location and detection accuracy." but there's more....a lot more! 
"Our guarantee was put together by our sales and marketing department, not our engineers," Greene told a San Francisco court in 2017. "We need to give them [customers] a number … We have to tell them something. … It's not perfect. The dot on the map is simply a starting point." - quote from the above linked Motherboard article. 
Asiaha Butler, president of the Resident Association of Greater Englewood, made a statement to Motherboard that further incriminates the Chicago Police Department. Her statement is one in which it is clear that the Chicago Police Department is relying on racial and economic disparities, along with the ShotSpotter technology itself to stay distant from Chicago residents instead of forging relationships in the community.
Lucy Parson's Labs, a non-profit org that focuses on transparency, police accountability and digital security, has accused the ShotSpotter technology of being a fraud. 
The response from the community today has been one of shock, anger, despair, and dismay. There has been a swift call to action by a Twitter account @defundcpdchi 
This reporter has reached out to Chicago Police News Affairs and Chicago COPA for comment. This piece will be updated when or if these city departments answer.